APS is a dedicated training device for people with various disabilities. This is the ultimate training device for exercising 4 limbs at the same time.
The APS provides a solution for the training of paraplegics, hemiplegics and the elderly. The APS includes a pair of secure insoles with shin supports, a pair of ergonomic grip handles .
The APS moves the 4 limbs simultaneously with the help of a flywheel (just like on a professional spinning bike ) and a high quality motor, which makes it very easy to use.
The movement of one hand or leg is enough to move the 4 limbs in a combined active and passive movement, while fully passive movement is still possible thanks to the motor.
Thanks to the flywheel, a synchronized repetitive rhythmic circular movement is maintained at a uniform rate along the entire radius of rotation, while the motor makes sure the speed or resistance is kept at the same level you want it.
The calm and continuous circular movement contributes to:
Reduction of spasticity and increased involuntary tone
Builds muscle fibers and blood capillaries for the muscle tissue in the 4 limbs.
Stimulates blood circulation and metabolism and improves general health in many and varied parameters.
Preservation and improvement of cardiopulmonary functions and muscle strength in the upper limbs.
Maintaining and improving range of motion and muscle mass
Blood circulation is normal even in the paralyzed limbs.
Burning calories and fats, improving body metabolism and reducing the risk of calcium leakage and osteoporosis.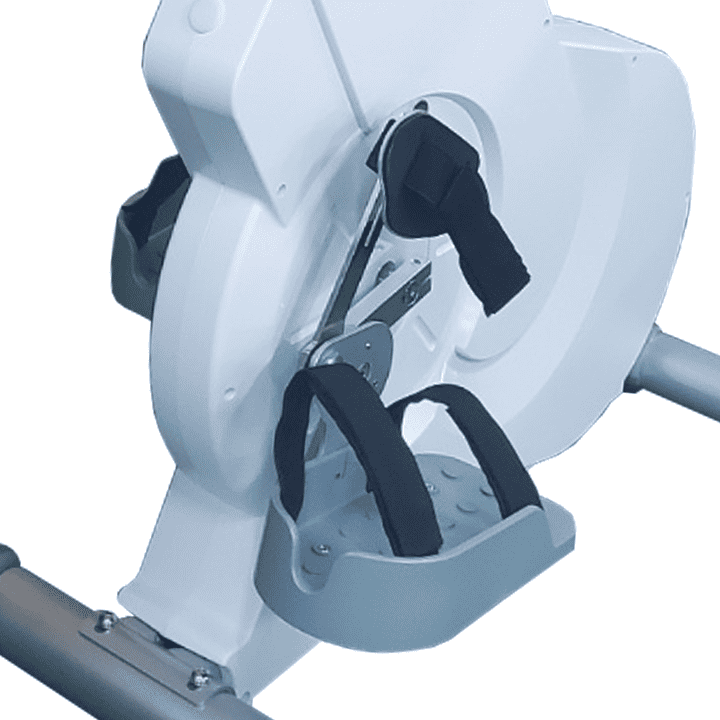 Feature
| | |
| --- | --- |
| Active mode | |
| Passive mode | |
| Active-Passive automatically change | |
| Upper training | |
| Lower training | |
| Upper&Lower Training | |
| Speed Levels | 4~60RPM |
| Resistance Levels | 1~15 |
| Symmetry Training | |
| Spasm Control | |
Display
| | |
| --- | --- |
| Segment type | Segment type |
| Workout Report | |
| Voice Guidance | |
| Speed, Resistance, Time, Distance | |
| Bio Feedback Training | |
| Left vs Right % | |
Option
SPEC.
| | |
| --- | --- |
| Dimension(mm) | 580 X 1020 X 1250 |
| Weight | 38kg |
| Power | 220V AC, 60Hz |
| Power Consumption | 96VA |
Call for Price

Call for Price

Call for Price